Sex:
Female
Gene:
Strain:
FVB/NJ
Organism:
Mouse
EMAP / Embryonic stage,
tissue or post-natal age:
99998 - Adult
Genotype Status:
Wild-type

MPATH / Pathology:
MPATH 554 - dystrophy

Genetic Manipulation:
None

MA / Anatomical Site:
MA 163 - vibrissa
Designated Allele Name:
Experimental Manipulation:
Description:
This is the muzzle from a 380 day old female FVB/NJ mouse. There are two vibrissae that are deformed. This is follicular dystrophy of the vibrissae.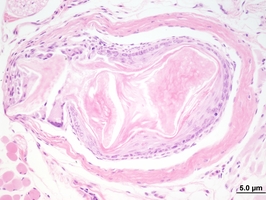 | | |
| --- | --- |
| Magnification: | x25 |
| Stain: | H&E |