Sex:
Male
Gene:
Strain:
NON/ShiLtJ
Organism:
Mouse
EMAP / Embryonic stage,
tissue or post-natal age:
99999 - Senescent
Genotype Status:
Wild-type

MPATH / Pathology:
MPATH 554 - dystrophy
MPATH 213 - acute inflammation

Genetic Manipulation:
None

MA / Anatomical Site:
MA 2708 - nail plate
Designated Allele Name:
Experimental Manipulation:
Description:
This is the nail unit from a 837 day old male NON/ShiLtJ mouse. Note the nail plate did not form normally. There is various degrees of acute inflammation along the length of the nail plate and bed to the hyponychium. This is nail dystrophy.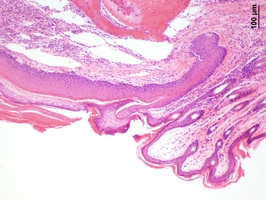 | | |
| --- | --- |
| Magnification: | x10 |
| Stain: | H&E |