Sex:
Male
Gene:
Strain:
129S1/SvlmJ
Organism:
Mouse
EMAP / Embryonic stage,
tissue or post-natal age:
99999 - Senescent
Genotype Status:
Wild-type

MPATH / Pathology:
MPATH 134 - hyperplasia

Genetic Manipulation:
None

MA / Anatomical Site:
MA 127 - pancreatic islet
Designated Allele Name:
Experimental Manipulation:
Description:
This is the pancreas from a 856 day old male 129S1/SvlmJ mouse. Note the pancreatic islets, while appearing to be normal, are unusually large. This is pancreatic islet hyperplasia, a common finding, albeit not always this large, in mice 20 months of age or older.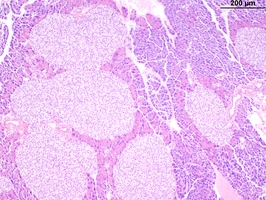 | | |
| --- | --- |
| Magnification: | x10 |
| Stain: | H&E |