Sex:
Female
Gene:
Strain:
PWD/PhJ
Organism:
Mouse
EMAP / Embryonic stage,
tissue or post-natal age:
99999 - Senescent
Genotype Status:
Wild-type

MPATH / Pathology:
MPATH 365 - mesothelioma

Genetic Manipulation:
None

MA / Anatomical Site:
MA 2877 - mediastinal lymph node
Designated Allele Name:
Experimental Manipulation:
Description:
This is the heart and mediastinal lymph node from a 854 day old female PWD/PhJ mouse. Note the extensive material on surrounding the heart. This is a mixed population of cells, some inflammatory associated with necrosis, others being round cells with abundant eosinophilic cytoplasm, the latter of which are found in the lymph node. This is interpreted to be a mesothelioma.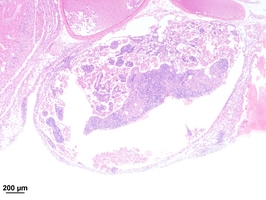 | | |
| --- | --- |
| Magnification: | x10 |
| Stain: | H&E |