Sex:
Female
Gene:
Strain:
C3H/HeEl
Organism:
Mouse
EMAP / Embryonic stage,
tissue or post-natal age:
99998 - Adult
Genotype Status:
Wild-type

MPATH / Pathology:
MPATH 397 - osteosarcoma

Genetic Manipulation:
None

MA / Anatomical Site:
MA 312 - lumbar vertebra
Designated Allele Name:
Experimental Manipulation:
Radiation

Description:
Osteosarcoma induced by Thorium 227 injection
in congenic C3H/He mice, carrying a susceptibility allele from the 102-strain on chromosome 14.
The tumour originates from the medullary or trabecular structures
of the lumbar vertebrae and extends into the vertrebral canal.
Compression of the vertebral cord resulted in clinically obvious
paralysis of the hind legs.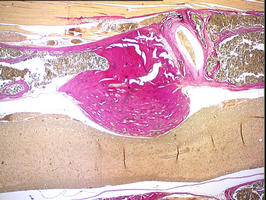 | | |
| --- | --- |
| Magnification: | x20 |
| Stain: | van Gieson |