Sex:
Male
Gene:
Gdnf

Strain:
FVB
Organism:
Mouse
EMAP / Embryonic stage,
tissue or post-natal age:
99997 - Juvenile
Genotype Status:
Homozygous

MPATH / Pathology:
MPATH 127 - atrophy

Genetic Manipulation:
Transgenic-Ectopic-overexpression

MA / Anatomical Site:
MA 412 - seminiferous tubule
Designated Allele Name:
Experimental Manipulation:
Description:
Disruption of spermatogenesis and accumulation of undifferentiated spermatogonia in GDNF overexpressing mice. Testicular morphology of GDNF-overexpressing mice is normal at birth. After 2 to 3 weeks, a chimeric histological pattern is observed. The tubular cross sections not only showed normal spermatogenesis but also displayed large cell clusters. Because these cells in the clusters did not show much nuclear heterochromatin and did express a spermatogonial marker, EE2, they could be morphologically classified as type A spermatogonia. The clusters gradually degenerated after puberty, resulting in tubular atrophy, and Sertoli cells phagocytosed the dead cells. At 10 weeks of age, only remnants of clusters were seen, but a rim of spermatogonia at the periphery of atrophic seminiferous tubules remained. No sperm was observed in seminiferous tubules or the epididymis.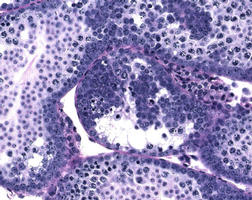 | | |
| --- | --- |
| Magnification: | N/A |
| Stain: | PAS |