Sex:
Male
Gene:
Lepr

Strain:
BKS.Cg-m +/+ Leprdb
Organism:
Mouse
EMAP / Embryonic stage,
tissue or post-natal age:
99994 - Newborn
Genotype Status:
Homozygous

MPATH / Pathology:
MPATH 14 - process of degenerative change

Genetic Manipulation:
Spontaneous-mutant

MA / Anatomical Site:
MA 7 - limb
Designated Allele Name:
diabetes; db

Experimental Manipulation:
Description:
The two db/db male mice shown here , 15-17 weeks old (JAX # 000642) had all four distal limb joints swollen. There was no damage to any other bones. This phenotype has not been previously reported. Note that this strain may also contain the recessive misty (m) mutation. See JAX stock record for details. No histopathology available as yet for more precise diagnosis.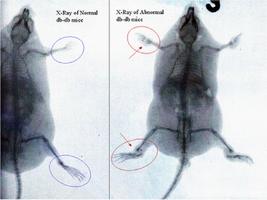 | | |
| --- | --- |
| Magnification: | |
| Stain: | X-ray |